About 911 Restoration of Santa Cruz
Meet the Owner:
Jeff Powell, the owner of 911 Restoration Santa Cruz knows how to protect and serve people experiencing water damage due to his twelve years as a police officer.
During that same time, Jeff also owned a carpet cleaning company where he became familiar with the home service industry.
Utilizing his unique skill set, and exemplary customer service abilities, Jeff decided to open up his own branch office of 911 Restoration to provide the people with a quality restoration experience whenever they have water damage or other home disaster.
From his days as a carpet cleaner, Jeff also found that he truly enjoys being the solution to people's problems no matter how large or small they may be.
Jeff admits that he always wants to be "the positive influence on any situation he encounters."
Keeping in line with this, his restoration work allows Jeff to provide people in need with his genuine positivity, and solutions to all their water damage problems.
Powell's Practical Advice:
In Jeff's constant efforts to put homeowners at ease over the phone when they have a disaster, he has also encountered a huge number of people who are simply looking for advice.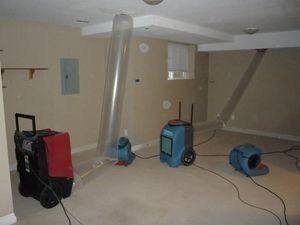 Sometimes Jeff can even give people the insight and information they need to prevent a disaster from ever unfolding.
While less reputable competition in the area might let a homeowner fail, Jeff gives people sound and practical tips and tricks that will help them through their troubles.
"We want to bring a sense of calm to the panic that people are experiencing," Jeff says. One thing property owners can do is to turn off the water main to their home when they go on long vacations.
This ensures any sort of water-based issue won't be an extreme problem because there is no water influx making things worse.
On one occasion Jeff encountered a church which had massive water damage problems, but yet no means to fix them. Situations like this can be expensive for property owners to pay for out of pocket when the insurance company won't contribute, and this was just one of those times.
With the help of a friend who worked at the church, Jeff gave the place a total carpet cleaning, and never asked for a penny in return.In fact, most of the members of the church, including the owners of the building didn't even know that they would be receiving this special treatment.
When everyone came in to find that the whole place had been restored top to bottom, a mini mystery ensued as Jeff never even tried to take credit for the excellent work he and his crews of professionals provided.
Bringing A Fresh Start To Every Customer.
This type of giving, philanthropic attitude is exactly the variety that Jeff and his staff bring to every job site that they do work on. "People can trust us when we do work for them," Jeff says, "if we find ten cents in change while vacuuming and cleaning your carpet, it'll be there waiting for you to spend when we are done with the job."
Taking care of customers is Jeff and his team's number one priority for all the restoration work that they do.
This is because when people are in such situations, they need not only expert restoration work, but also someone to help ease them through the ripple effect of troubles that this can cause in people's lives.
"When your home is affected by water damage that forces you to temporarily relocate, it can be very stressful," Jeff says. "This is why we do everything we can to make things easier for homeowners during these times.
We will file their insurance paperwork for them, and even help them to find a place to stay while they wait for their home to be livable again."
If your home is amid a water damage scenario and you want someone to take care of you from start to finish, then contact Jeff and the water damage restoration staff at 911 Restoration Santa Cruz today!