Commercial Restoration in Santa Cruz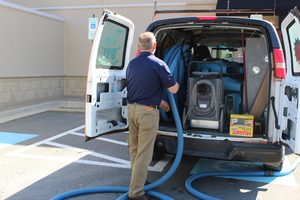 As a commercial property owner, you know that any type of damage dealt to your property is damage dealt to your business. Whether the damage is water damage, sewage backup, mold growth, or you even find yourself needing fire damage restoration the end result is the high possibility of needing to close the building until deemed safe. This can immediately translate into lost revenue.
At 911 Restoration of Santa Cruz, our IICRC certified technicians understand how important it is to get back to business as usual, which is why we work to get the doors back open as quickly as possible. In addition, our comprehensive approach ensures that additional complications are no concern for you and everyone else within the building. 
We deliver on our promise by adapting to the disasters themselves. It's true that disasters can strike any time day or night. The only way to stay ahead of that fact is for our technicians to be available 24/7/365 ready to get to work on any emergency restoration you need. It's not enough to be available, we believe in a fast response. No matter your location in the Santa Cruz area, we guarantee to arrive within 45 minutes of receiving your call to begin on your commercial restoration. 
Get superior assistance backed by qualified work by partnering with our IICRC certified technicians at 911 Restoration of Santa Cruz. Don't delay in getting the Fresh Start you need to start over in Santa Cruz.
Get Help For Your Water Damage Restoration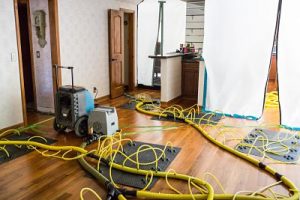 Part of being a commercial building owner means staying up to date with the performance of your building, which includes items like building codes, zoning restrictions, and more. When your building fails to live up to code, it's your responsibility to ensure the problem is remedied quickly. In the case of water damage, it can often impact your building by forcing repairs you weren't prepared for. That's why when water damage occurs, the key is to get your commercial restoration experts out promptly to get started on the water damage restoration.
Before anything else, the first task to complete is to locate the source of the water damage and stop it. Stopping the water damage source will prevent the problem from growing any larger than it already has. Once this is complete, the water extraction and drying process can begin. After drying, it's time to begin working on the repairs needed to restore the property back to good as new.
With 911 Restoration, some of the benefits you receive when fixing water damage include:
Free Visual Inspection for Property Owners Only
Storm Repairs

Disaster Restoration

Water Extraction

Burst Pipes

Leak Detection and Repair

A Team That Cares & Understands Your Needs

Highly Trained Technicians Providing You With Peace of Mind

And More
Every single one of our IICRC certified technicians are licensed, bonded, and insured at 911 Restoration of Santa Cruz. Upon arrival, our technicians get to work on by conducting visual inspections and putting together an action plan guaranteed to succeed. Call the moment you become aware of water damage to prevent additional problems such as mold or building shutdown.
We'll Handle Your Flood Damage Restoration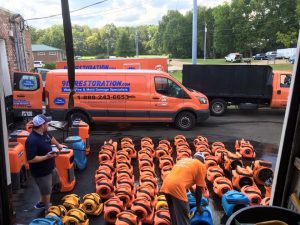 Flood cleanup, also known as flood damage restoration is a specialized process designed to combat the additional problems that flood water brings. In addition to the higher than normal water levels, commercial owners also need to be concerned about the likelihood of contamination. Most floods happen thanks to a pipe burst, which is why the basement of your building is such a common source of water damage. When these pipes burst, you can end up with water that contains anything ranging from dirt to raw waste depending on the pipe in question.
Our flood cleanup process begins with our combination of decontamination and mold decontamination. With this step, all traces of bacteria and mold are eliminated from the premises making it safe again for your residents or customers. Once this step is complete, we can move on to the water extraction and drying process. During this part of the process, we also perform any needed repairs to get your building up and running again.
Keep in mind that flood damage is often covered by insurance. Thanks to our experience, we are uniquely qualified to help our commercial restoration customers with every aspect of their insurance claim. In fact, we are happy to file the claim for you if you choose to have us do so. With us, you can rest assured you're getting the help you need both on-site and behind the scenes.
When you need superior service that doesn't compromise on deliverables, then call 911 Restoration of Santa Cruz for your commercial restoration needs. Get the Fresh Start you need to begin anew in Santa Cruz