Water Damage Restoration in Salinas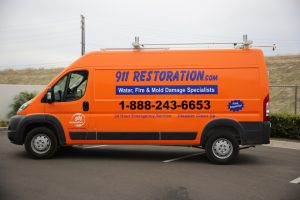 For property owners in the Salinas area, there is no type of property damage as common or as destructive as water damage. Anything from a leaky appliance hose to a pipe burst can dish out significant levels of damage that are immediate and long-lasting. Depending on how severe the water damage is, the water level may build up slowly over time or cause immediate flooding. No matter the source, you will need professional water damage restoration services if not flood cleanup itself.
Once the water has been around for 24 hours or longer, water can cause secondary damage to occur. This additional damage strikes in the form of mold growth, which eats away at your organic materials. When this occurs, you need mold removal services in addition to water damage restoration.
Water damage or mold contamination can strike at any time day or night for Salinas area residents. That's why we make ourselves available 24/7/365 to handle your emergency restoration needs. Our Fresh Start policy all means that we guarantee to arrive within 45 minutes of your call no matter your location in the Salinas area.
Whether its water damage restoration, mold remediation, or both the first step to make is the call to 911 Restoration. We'll be there soon to take care of your property and deliver a Fresh Start you can count on.
Water Damage Repair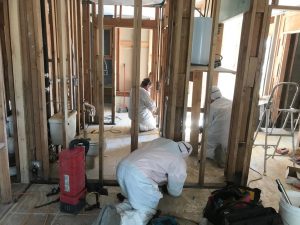 Professional water damage restoration is a complex and involved process thanks to the numerous problems that can arise from water damage. That's why we have formulated a comprehensive process thanks to our years of experience and training to simplify the process and get you back to good as new before you know it.
The first thing we do upon arrival is a visual inspection to determine the scope and extent of the water damage on your property. Once we have those answers we can execute a plan of action. Our approach is containment and then a combination of water extraction and drying using the latest equipment available. As part of our efforts to prevent the need for mold removal services we also use an infrared camera to verify that the property is completely dry when we have completed our process.
At times, the damage is severe. This is more likely with larger events like a pipe burst or leaky roof. This results in a need for restoration services that include repairs to the property. One of the most common repairs are the ones needed to repair wooden structures.
Wood makes up a large part of any building and is especially susceptible to water damage and mold growth. That's why we are prepared to repair or replace any wooden beams that make up the property. In addition, we also add new sheetrock and anything else needed to be good as new.
Water damage restoration and mold remediation is a phone call away. As soon as you suspect the need for either, don't hesitate to call 911 Restoration. With us, you get the Fresh Start needed to begin anew.
Flooding Cleanup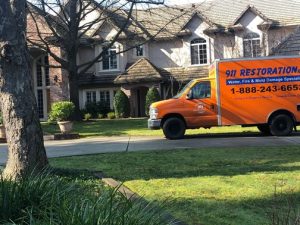 Sometimes a special kind of water damage restoration is needed thanks to the extra damage. This is known as a flood cleanup and usually occurs due to a pipe burst or other similarly impactful event. A flood cleanup done promptly can feasibly prevent the need for mold decontamination or any other mold remediation services.
However, when flooding from a pipe burst occurs the water released is either gray or black water depending on the type of pipe. Gray water has dirt, debris, and other materials while black water contains raw waste. That's why during flood cleanup industrial strength cleaners and detergents are needed. They work to decontaminate the area and then water extraction can begin.
We take extra precautions with flooding by performing a secondary visual inspection to ensure that not only is everything dried out but is also safe for the residents in the building. As part of our restoration efforts, we work to ensure our Salinas area residents are able to resume normal life quickly by conducting repairs as needed. Plus, we offer comprehensive assistance during the insurance claims process so that you can get the relief you need when you need it.
Everything from a pipe burst to mold removal is taken care of by 911 Restoration of Santa Cruz. Call us so we can get to work taking care of our Salinas area residents. Get your Fresh Start today!
Servicing the cities of Aptos, Aromas, Ben Lomond, Boulder Creek, Capitola, Carmel, Carmel Valley, Castroville, Davenport, Del Monte Forest, Felton, Freedom, Gilroy, Gonzales, Greenfield, King City, Los Gatos, Marina, Monterey, Morgan Hill, Pacific Grove, Pebble Beach, Prunedale, Salinas, San Juan Bautista, Santa Cruz, Santa Cruz County, Scotts Valley, Seaside, Soledad, Soquel, Swanton, Watsonville
and surrounding areas.