Sanitization Services in Santa Cruz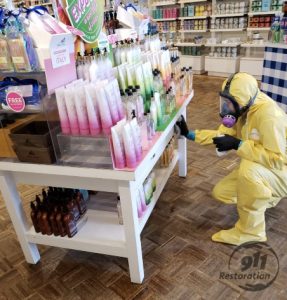 As our community works to overcome the coronavirus pandemic, we depend on property owners like you to help maintain clean living and work spaces. This can be a heavy burden at times. This is especially true if you own a retail store or commercial facility that provides an essential service. You are tasked with providing a sanitized space for your employees and customers even as the rest of the community closes its doors. And the job of disinfecting your property often feels overwhelming and impossible. Coronavirus is resilient and can be present without your knowing. If you feel lost and alone, please know that 911 Restoration of Santa Cruz is always here to help. Call us at 831-216-1088 and see how we can help.

We do all we can to support both residential and commercial property owners in their sanitization efforts. This is because we recognize how essential clean properties are in our community-wide effort to slow the spread of coronavirus.
This virus can be deadly for some of our neighbors. As we all watch death tolls rise across the globe, we are reminded that we each have an important role to play in protecting one another.
If you are a homeowner, please be aware that each time a member of your household goes out into the community, they risk exposure to coronavirus. Disinfect surfaces in your home regularly, and be especially diligent anytime an individual enters from outside.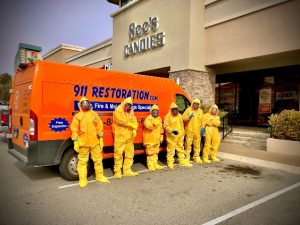 If you own an office space, retail store, or any other commercial property, your facility is especially at risk of contamination. You have limited control over who enters your space if your commercial property is open to the general public. Even if you have an office space with a small staff, each member of your staff comes from a different household. Each member of their household has their own daily routine and their own risk of bringing coronavirus home. Most significantly, some individuals do not show symptoms for up to two weeks following exposure to coronavirus. In other words, people who seem perfectly healthy may be infected. Deep office cleaning and facility-wide disinfection are crucial. 
When you are already rushing to meet the needs of your family or customers during a pandemic, thorough sanitization is one more burden to manage. Let us take the worry of cleaning off your plate. Our sanitization teams have all been trained to follow CDC and EPA protocols. They sanitize every type of property, from private homes to large commercial facilities. At 911 Restoration, we appreciate our neighbors' relentless efforts to limit the spread of coronavirus. Our goal is to do our part through compassionate service and comprehensive disinfection. 
There is a way through this pandemic and on to a Fresh Start. We're sure of it. In the meantime, please do not hesitate to call 911 Restoration of Santa Cruz for sanitization and support. Call us at 831-216-1088 and see how we can help.