Water Damage in Santa Cruz
911 Restoration of Santa Cruz
Owning property in Northern California can come with its fair share of obstacles when it comes to protecting the home or business from the effects of rain, wind, and mold.
Those living in Santa Cruz experience rainstorms and freezing temperatures that can cause pipe bursts, floods, roof leaks, and wind damage that can end up requiring professional water damage restoration and mold removal services to recover fully.
Eliminating the variables that arise from any restoration challenge requires experts who are licensed, insured, bonded, and who have access to IICRC certified technicians, ensuring that you are protected every step of the way.
911 Restoration Santa Cruz and their water damage restoration team are entirely up to date on all accreditation and training so they can provide you and your property with the best flood cleanup and mold abatement in the business. Call us at (831) 216-1088 and allow us to offer you a free visual inspection.

The water damage restoration technicians are entirely dedicated to customer service and satisfaction, and they achieve this by always keeping the property owner and their needs as priority number one. One of the many ways that the water damage restoration unit take care of their clients is by providing around the clock, emergency, flood cleanup services. They guarantee that they will arrive within 45 minutes of receiving a call for help.
Being quick to the scene gives the water damage restoration team the ability to get on top of a project before it incurs more damage in the form of structural loss or even mold contamination. Most projects require immediacy, and this is why their technicians are always available to implement water cleanup, mold removal, and even fire damage restoration.
If your home or business is dealing with the effects of any restoration need from a water damage incident, to a sewage backup scenario, mold contamination, fire and smoke abatement need, or even a localized disaster, the water damage restoration experts in Santa Cruz have you covered, so call today!
Service area map
Water Damage Restoration
Solving the challenges presented by a water damage incident can be difficult for property owners on their own, and this is why people trust in the expertise and quality work of the water damage restoration team to take care of the job for them.
Water can invade a home or business in a variety of different ways, from a ceiling leak to water heater failures, and all the flooding in between, but no matter what form it takes, the professionals in Santa Cruz can handle it.
Part of the way that 911 Restoration of Santa Cruz is so capable of taking on any project is that the technicians are available 24/7/365 to spring in action for anything that pops up. In addition to being available at all times for emergency, water damage restoration services, the experts also make a point to provide a free visual inspection for property owners as soon as they arrive on the scene. Call us at (831) 216-1088 and see how we can help.

There is nothing that the agents can't handle, and they are wholly mobilized so that they can pick up and head to a water damage restoration job as soon as they get the call, no matter how big, small, or damaged the situation it.
Bringing the most advanced extraction technology and drying equipment to the job gives the water damage restoration team the ability to solve everything from ceiling leaks to local flooding from the water main water line, and to do so at an incredible value too.
If your home is already amid a flooding crisis and you want the best in the business to handle it for you and make your home or business like new again, then call 911 Restoration Santa Cruz today!
Client Testimonial
Sherry M.
"I would give them 6 stars if I could. I had to deal with a flood in my business, an absolute nightmare for every business owner. 911 Restoration came right away, and they are so professional and efficient. Even after everything was done they followed up and made sure everything was back to normal. A+ customer service. Thank you!"
Sanitization Services & Disinfection Solutions
You have an important role to play in slowing the progress of the coronavirus in Santa Cruz. All residents of our community can help during this pandemic by isolating themselves and maintaining good hygiene. It's important that you practice social distancing even if you feel healthy, as the coronavirus can be spread by non-symptomatic individuals. Take proactive steps during this pandemic by adhering to any quarantine regulations and keeping your property sanitized.
Sanitization and disinfection can kill the coronavirus on surfaces, if the cleanup is conducted properly. The crews at 911 Restoration of Santa Cruz use recommendations from the CDC and EPA when handling sanitization services. We focus on offering disinfection solutions to commercial and residential property owners. You can decide how much of your property you'd like us to clean and sanitize. We can work with you to set up sanitization services that meet your needs throughout the coronavirus pandemic, so contact us right now at (831) 216-1088.
Mold Removal
Eliminating the effects of mold contamination requires an exceptional level of both skill and expertise to keep spores from spreading around to uncontaminated areas of the property. The mold removal team at 911 Restoration of Santa Cruz has all the proper state certifications to do this job thoroughly and correctly, the first time around.
When mold contaminates a home or business, it can be extremely easy to transfer this infestation to other areas that are as yet unaffected through simply disturbing a colony, making professional cleaning efforts so important.
Mold spores are always aloft in the air around us, but disturbing a whole colony can dramatically increase the number of active spores in the air and make new contamination almost inevitable if it isn't handled very specifically.
The mold removal team will set up vapor barriers, containment measures, and they will use air filters and all of the latest mold detection and abatement tools to make sure that your home or business is taken care of properly.
If you have a mold growth from water damage or any other means in your property, don't try to clean it yourself, as this will only agitate it and likely spread the problem. Call the mold removal technicians and let them get your property thoroughly sanitized today!
Sewage Cleanup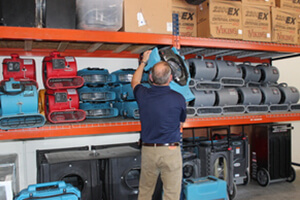 When it comes to alleviating the effects of a sewage backup situation, there is no one more trusted, qualified, and capable than the sewage backup cleanup team at 911 Restoration of Santa Cruz.
They have seen and solved every possible sewage spills and black water overflow that exists, which is why they have become the go-to source for this type of work in the Santa Cruz area. There is nothing they can't handle, including providing water damage and mold removal services in situations that require more than just sewage cleanup.
Beyond the cleanup effort, the technicians understand how to combat the odors that sewage spills cause, and will work hard to leave your property smelling fresh and clean.
Sewage backups are categorized in different levels of toxicity, but none of them are completely safe for the untrained person to clean up due to the ease of contamination that comes with working with black water spills.
If your home or building is undergoing the effects of a sewage backup, and you want the most talented experts in the industry to make your property look and smell like new again, then call the experts in Santa Cruz today at (831) 216-1088!
Disaster Restoration
The 911 Restoration professionals understand that disaster situations can come in a variety of different forms, from floods and earthquakes to pipe bursts and water heater explosions. Though no matter what type of damage your property takes on, the disaster restoration experts can make completely recover your home or business.
No matter what kind of disaster a home or business experiences, be it in need of water remediation, fire damage restoration, earthquake cleanup, or sewage restoration, we can handle it all. Each different type of disaster has with it its way of being restored, and luckily for property owners in Santa Cruz, we know them all.
When it comes to disasters, the best way to eliminate additional damages is to get right on top of repairing the structure so that the home or business doesn't experience the effects of stagnation like water damage, mold growth, and erosion of the structural integrity.
The disaster restoration pros understand that floods need to be attended to as soon as the waters recede and that the foundation should be bolstered before and after a major earthquake. Each disaster has its own variables and associated methods for remediation, and that's why 911 Restoration of Santa Cruz is certified in all forms of restoration work.
If your property is in need of water damage restoration, mold removal, or fire damage restoration like water damage, call the Santa Cruz office and let the disaster repair experts handle all of the repairs today!
Fire Damage Restoration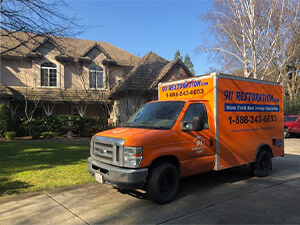 The fire damage restoration experts know that the nature of a situation involving soot, ash, and smoke and it is one that requires a high level of skill and expertise to be attended to properly.
Fire damage restoration jobs are big projects, and they can involve everything from removing all the belongings in a property for treatment to relocating the folks who live in the house. 911 Restoration of Santa Cruz tries to make all fire damage restoration projects as easy for people to get through as we possibly can.
Typically a fire damage restoration job involves water damage cleanup and mold removal, as well. This is because fire departments tend to use as much water as is needed to eliminate the possibilities of a flare up from returning after they put it out.
Water and smoke damage after a fire requires immediate abatement because the fire creates many porous surfaces that mold loves to start breeding in. Fortunately, the fire damage restoration technicians are also trained to implement mold removal services.
Beyond the physical effects that a fire causes, there is also the emotional component that needs to be considered. To help make the situation more comfortable, our staff will help with everything from packing and storing items that need to be removed from the property to filing the insurance claim.
If your property has been impacted by fire and smoke, then don't allow the incident to get any worse through stagnation. Call Jeff the fire damage restoration professionals and let them get your home or business back to normal in no time! Call us at (831) 216-1088 and see how we can help.