Water Damage Restoration in Morgan Hill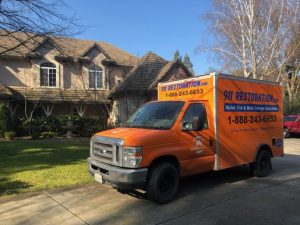 Being a property owner in Morgan Hill comes with a lot of responsibility. Of those responsibilities, none are as important as staying on top of any property damage that comes up. This is because of how common some are, such as water damage. Anything from a ceiling leak to a pipe burst can result in the need for professional water damage restoration services. That's why our IICRC certified technicians are ready 24/7/365 to assist with any mold remediation or water damage restoration needed by our Morgan Hill customers. Whether you live in Morgan Hill, Los Gatos,  or another city in the Santa Cruz area, we guarantee our arrival within 45 minutes of receiving your call to work on your water damage restoration.
Standing water can produce mold after as little as 24 hours. It's not a guarantee that mold will start right at 24 hours, but the longer you wait to resolve your water damage the more the clock is ticking on your chances of a simple restoration. The secret to an easy restoration is a prompt response. A failure to begin your water damage restoration quickly is to invite the need for mold remediation services before everything is completed.
As soon as you notice water damage or suspect mold, call 911 Restoration immediately. We'll be there in 45 minutes for our customers in Morgan Hill and the surrounding Santa Cruz area. Don't delay in getting the Fresh Start you need to move forward.
Water Damage Restoration
Water damage restoration requires a comprehensive approach to be successful. Sure, any water damage restoration company can get the property dry, but can they negate the possibility of mold later on? Do they provide any needed repairs? At 911 Restoration, our IICRC certified technicians have developed a streamlined and perfected water damage restoration process that takes care of our customers from start to finish. We always start with our visual inspection before getting to work so that we can better understand the extent of the water damage, if mold is already present, and if additional repairs will be needed before we're done..
Once the inspection is complete, we can get to work on your water damage restoration. We accomplish this task by using the latest water extraction equipment and commercial dryers to get the property dry as a bone for our customers in Morgan Hill. We refuse to do anything less than full service, which is why we go over our work with infrared cameras to ensure not a single wet spot is left behind. During this step, we also address any mold remediation needed before we move on to repair work.
Besides repairing the source of the water damage, we also handle other repairs including installation of sheetrock and flooring. That's just another aspect of our comprehensive approach to restore your property to good as new.
Call 911 Restoration immediately if you suspect mold or notice water damage on the property. We'll arrive within 45 minutes to help our customers in Morgan Hill get the Fresh Start they need to begin anew.
Flood Damage Restoration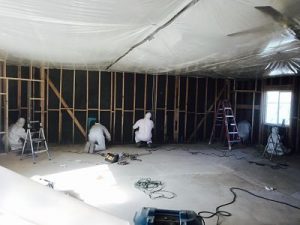 Flood damage restoration becomes needed when events like pipe bursts or severe ceiling leaks occur. Thanks to the number of them present in the basement, a flooded basement is the most common example of flooding for property owners to experience. When this occurs, you need flood cleanup services, which is a little different from standard water damage restoration. Flood cleanup requires an additional step due to the contaminants present within floodwater.
Due to the contaminants, we perform both standard and mold decontamination to eliminate any trace of bacteria or mold present with the floodwater. Once the area is completely sanitized, it is no longer considered hazardous for our Morgan Hill customers. At that point, we move on to our water extraction and drying process to get the property dried out. Once the property is dry, sanitized, and back to normal, we can finish the job by performing any needed repairs to completely restore the property.
Call 911 Restoration for any emergency restoration services needed. Don't wait to get the Fresh Start you need to move forward.
Servicing the cities of Aptos, Aromas, Ben Lomond, Boulder Creek, Capitola, Carmel, Carmel Valley, Castroville, Davenport, Del Monte Forest, Felton, Freedom, Gilroy, Gonzales, Greenfield, King City, Los Gatos, Marina, Monterey, Morgan Hill, Pacific Grove, Pebble Beach, Prunedale, Salinas, San Juan Bautista, Santa Cruz, Santa Cruz County, Scotts Valley, Seaside, Soledad, Soquel, Swanton, Watsonville, and surrounding areas.