Water Damage Restoration in Santa Cruz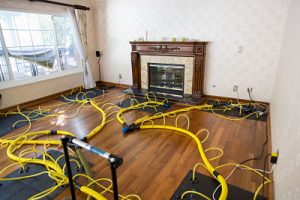 Property owners in the Santa Cruz area know that water damage is one of the most destructive types of property damage possible. It is also a common occurrence thanks to the numerous opportunities for water damage to occur. From a leaky hose to a pipe burst there are multiple sources that contribute to water damage. In exceptionally severe cases, you may need not only water damage restoration but also mold remediation services.
Water that has been standing for 24 hours or longer ends up becoming a perfect breeding ground for a mold infestation. The faster and more complete you can get your water damage restoration done the less likely you are to experience mold growth. That's why you need professionals like the ones at 911 Restoration to handle your emergency restoration needs. Call us at 831-216-1088 and allow us to offer you a free visual inspection.
We make ourselves available 24/7/365 due to the possibility of water damage striking at any time. For our Santa Cruz area customers, we guarantee to arrive within 45 minutes ready to handle your water damage restoration.
If you need flood cleanup, mold removal, or standard water damage restoration then make sure to call 911 Restoration immediately. We'll be there soon to deliver the Fresh Start you can count on.
Water Restoration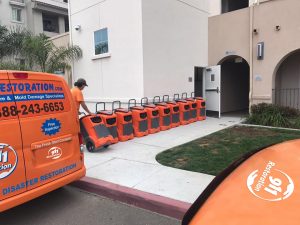 The water damage restoration process is one that is best handled by professionals. At 911 Restoration, we have combined our years of experience with our training and IICRC certification to deliver a process that has been honed to perfection. Before we unload any equipment, our first step is to perform a visual inspection so we can determine the extent of the damage as well as any possible need for mold remediation.
After we finish our inspection, we can get to work on your water damage restoration. We use the latest equipment and training to perform a combination of water extraction and drying to get the property dry as a bone. Once the property is dried out, we use other equipment like our infrared cameras to ensure there are no wet spots left that are invisible to the naked eye. This helps ensure we don't have to come back out to perform mold remediation. We value getting the job done correctly the first time.
Water damage restoration is not complete until we have made repairs to any part of the property that is in need. Everything from replacing support beams to new sheetrock is provided as part of our comprehensive approach to getting you back to good as new.
Call 911 Restoration for all of your needs from water damage restoration to mold removal. We'll be there within 45 minutes for our Santa Cruz area customers to deliver a Fresh Start. Call us at 831-216-1088 and see how we can help.
Flood Damage Restoration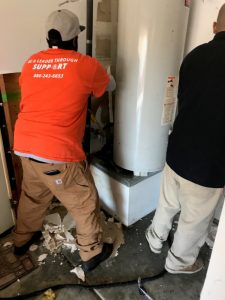 Water damage can reach truly destructive levels known as flooding. Usually, something like a pipe burst is the cause of this phenomena. If this occurs, you need flood damage restoration, which is also known as flood cleanup. A properly performed flood cleanup requires an extra step beyond the normal water restoration process.
The reason for this is because flooding usually contains gray or black water. Both types of water require the use of commercial grade detergents and cleaners for decontamination. Due to the extra materials like debris or raw waste, the chances of mold growth is increased. This may result in the need for mold decontamination as well.
Once the area has been decontaminated, we can proceed to our combination of water extraction and drying to get the property dry. If mold is discovered, we also utilize containment measures to prevent the mold from spreading. We may perform a second round of decontamination if deemed necessary during our secondary inspection.
Any form of water damage including flooding should be covered by your insurance. Our years of experience in the industry make us uniquely qualified to provide assistance during the claims process. In fact, we will file your claim for you if you decide to pursue that option. Our goal is to get you the help you need as quickly as possible.
Everything including flood cleanup, mold remediation, and other emergency restoration services is taken care of by 911 Restoration. If you find that you're in need, then pick up the phone and call. We'll deliver a Fresh Start you can count on. Call us at 831-216-1088
Serving the communities of Carmel Valley, Greenfield, Seaside, Soledad, Los Gatos, King City, Soquel, San Juan Bautista, Santa Cruz County, Big Sur, Brookdale, Carmel by the Sea, Chualar, Jolon, Lockwood, Moss Landing, Mount Hermon, San Lucas, Spreckels, San Jose, San Martin, Aptos, Aromas, Castroville, Del Monte Forest, Marina, Davenport, Salinas, Watsonville, Ben Lomond, Felton, Monterey, Santa Cruz, Boulder Creek, Freedom, Morgan Hill, Swanton, Capitola, Gilroy, Pebble Beach, Scotts Valley, Carmel, Gonzales, Pacific Grove, Prunedale  and surrounding area.