Water Damage Restoration in Seaside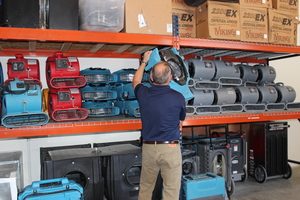 As a property owner in Seaside, you know about the dangers and struggles concerning property damage than you wish you did. While it may come in many forms, water damage is the most common source of property damage thanks to the numerous ways it can strike. Anything from a ceiling leak to a pipe burst can result in the need for water damage restoration. That's why our IICRC certified technicians are ready 24/7/365 to help on any mold remediation or water damage restoration that's needed by our Seaside residents. Whether you live in Seaside, Morgan Hill, or another city in the Santa Cruz area, we guarantee our arrival within 45 minutes of your call ready to get to work on your Fresh Start.
It only takes standing water as little as 24 hours to begin producing mold. It's true that you may not notice mold at hour 24, but it starts growing and spreading at that time. The longer the water is left alone, the more mold that will exist on the property. The key to minimizing the impact on your property is prompt water damage restoration. The faster you act, the less likely you are to need mold remediation services as well.
As soon as you suspect mold or notice water damage, make the call to 911 Restoration immediately. We'll be there in 45 minutes to deliver a Fresh Start to the residents in Seaside and surrounding Santa Cruz area.
Water Damage Restoration
Water damage restoration requires a concentrated effort from beginning to end. There's a lot more that goes into the process than just drying out the immediately noticeable wet spots. Our IICRC certified technicians have developed their water damage restoration process to perfection thanks to years of experience and ongoing training. Before we begin, we start with a visual inspection of the property. This inspection shows us the extent of the water damage, the existence of mold, and what repairs will be needed before we leave.
Once the inspection is complete, we can get to work. We use the latest water extraction equipment and commercial dryers to completely dry the property out from top to bottom. Nothing is left to chance by our technicians, which is why we use infrared cameras to double check our work. This camera detects wet spots that we may have missed with our eyes alone. After the property is deemed completely dry, we can get to work on any needed repairs. Also, if mold was found in the inspection, then we address your mold removal needs during the drying process.
Besides repairing the source of the water damage, we also perform installations of new materials along with other repair work. For us, the job isn't done until the property is truly restored back to good as new. That's just what makes a comprehensive approach in our minds.
Once you notice water damage or suspect mold call 911 Restoration for anything from mold inspection to flood cleanup. We'll be there in 45 minutes for our Seaside customers to begin working on your emergency restoration. Don't wait to get the Fresh Start you need today!
Flood Damage Restoration
Water damage from pipe bursts and ceiling leaks often result in flooding. While a flooded basement may be the most common example, flooding can happen anywhere on the property. When this occurs, the only solution is flood cleanup. Flood cleanup is a modified water damage restoration process designed to address the concerns that floodwater brings. With floodwater, it often has contaminants which can range from dirt to raw waste depending on the source of the flooding.
To address this problem, we perform both standard and mold decontamination to remove any bacteria or mold that may be present in the affected area. We take your health seriously, which is why both are offered. Once we have made sure the property is sanitized, we can proceed to our normal water extraction and drying process. After all restoration efforts are completed, we will finish the job by handling any repairs needed to get everything back to good as new.
Call 911 Restoration as soon as you become aware of the need for emergency restoration services. Don't wait for the Fresh Start you can depend on.
Servicing the cities of Aptos, Aromas, Ben Lomond, Boulder Creek, Capitola, Carmel, Carmel Valley, Castroville, Davenport, Del Monte Forest, Felton, Freedom, Gilroy, Gonzales, Greenfield, King City, Los Gatos, Marina, Monterey, Morgan Hill, Pacific Grove, Pebble Beach, Prunedale, Salinas, San Juan Bautista, Santa Cruz, Santa Cruz County, Scotts Valley, Seaside, Soledad, Soquel, Swanton, Watsonville, and surrounding areas.