Water Damage Del Monte Forest
Water damage is a known occurrence on the beaches of Californian, living in Del Monte Forest you must be prepared for such an event. Our water damage Del Monte Forest crew is available 24/7 to help you overcome floods from rain storms, pipe bursts, and worse, and 911 Restoration Santa Cruz will respond within 45 minutes. We know how vital it is to act professional and act fast. We use the latest drying technology for all of our disaster restoration services, including:
Water Removal
Sewage Backup Cleanup
Mold Remediation
Sanitation
Reconstruction
Since Del Monte Forest includes a habitat full of endangered and rare species of plant, our water damage Del Monte Forest team is especially careful about being prepared for floods in the area. We restore your home to match the loveliness of the surrounding forest, cliff face, and ocean. We are licensed, insured, and bonded to swiftly help after all disasters. Call us for water damage restoration services at an affordable price.
Who do I Call for Water Damage Restoration Services?
Call our water damage Del Monte Forest specialists for water damage restoration services because we have over 35 years of experience. We always put the customer first, so we will help you salvage your home after a toilet overflow, ruptured hoses, or a pipe burst. We can also show you how to prevent future leaks by cleaning your gutters and downspouts to allow rain to flow freely off your home; installing a sewage back flow valve to stop returning water from entering your home; and repairing your plumbing so that trouble never arises. We even offer a free inspection after drying and clean up is complete to visually check for mold growing in place of the floods.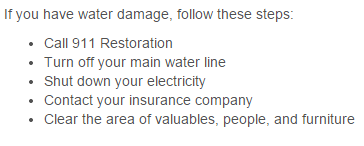 We offer an affordable price on all our disaster restoration services so that all houses in the area can utilize our expert water damage restoration services. We are working with all insurance companies and 911 Restoration Del Monte Forest provides the best water extractions. Call our water damage Del Monte Forest technicians to start pumping water out and we will file your insurance claim for you.
Does Homeowner's Insurance Cover Water Damage?
Homeowner's insurance covers water damage when it comes from within the home and was not caused by negligence, and our water damage Del Monte Forest professionals can help you avoid negligence. If you follow our guides for preventative maintenance you will secure your home against disasters and protect your finances because your homeowner's insurance will cover any fluke water emergencies that arise. For rising external water sources, you will need a flood insurance policy. According to the Insurance Information Institute, water damage is one of the most likely reasons for insurance loss, so you want to make sure you have and understand both types of policies.
Our water damage Del Monte Forest personnel will be happy to help you file your insurance claim to get the coverage you deserve. We speak the industry jargon and know all their tricks. For instance, if leaks have persisted more than 24 hours they are likely not to cover the case. In this case, our affordable price comes into play. We work within your budget to get you the emergency water removal you need. When a water heater floods your carpets or fire sprinkler destroys your office, our water damage Del Monte Forest experts will be there to get you through it. When you need water extractions from the best water damage restoration company, call us.
What is the Best Water Damage Restoration Company?
The best water damage restoration company is 911 Restoration because our water damage Del Monte Forest staff are available 24/7. We cater to the customer and make sure you get the aid you need as soon as possible. We use the latest drying technology and best remediation techniques to save and protect your property. Call our water damage Del Monte Forest company when you need a fresh start in the city of Del Monte Forest due to plumbing or rain trouble and we will be there to bring your building back to matching its glorious surroundings!