Water Damage Restoration in Los Gatos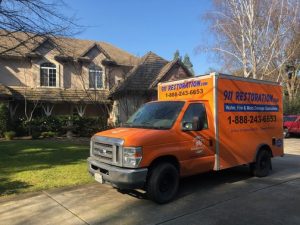 Being a property owner can be a lot of fun. It can also be a lot of responsibility. One of the most frequent concerns for property owners is damage to the property. This can take many forms but water damage is by far the most common source of property damage. This is mostly because anything from a leaky faucet to a burst pipe can force a need for professional water damage restoration services. That's why our IICRC certified technicians are ready 24/7/365 to assist on any mold remediation or water damage restoration needed by our Los Gatos customers. Whether you live in Los Gatos, Morgan Hill, or another city in the Santa Cruz area, we guarantee to arrive within 45 minutes ready to get to work on your water damage restoration. Call us at 831-216-1088 and allow us to offer a free visual inspection.

Mold only needs water to be around for 24 hours to begin growing. The longer the water exists, the more mold you face on the property. This causes a need for mold removal services on top of water damage restoration services. The key to reducing the impact on your property is to respond promptly with professional attention. The sooner you bring the professionals in, the sooner you get back to good as new without complications.
Whether you need mold remediation or water damage restoration call 911 Restoration immediately to get taken care of. Call today to get the Fresh Start you need to move forward in the Santa Cruz area.
Water Damage Restoration
Water damage restoration is a process that involves a lot more than just removing the excess water. Repairs are likely to be needed, and a failure to remove all sources of moisture can result in mold appearing two months later. At 911 Restoration, we understand that and have developed a perfected water damage restoration process designed to handle everything from start to finish. We accomplish this by performing a visual inspection before unloading a single piece of equipment. This inspection is meant to assist us in determining the extent of the water damage, if mold is already present, and what repairs will be needed.
Once the inspection is finished, it's time to unload and get to work. We only use the latest water extraction equipment and commercial dryers to dry out the property for our Los Gatos customers. This helps us ensure mold can't make an appearance later on. To ensure we're successful, we use infrared cameras to pick up on any wet spots our eyes may have missed. Once the property is dried out, we can begin performing the needed repairs. If mold was discovered during the inspection, we will address your mold removal beforehand to protect against any complications down the road.
In addition to fixing the source of the water damage, we do other work such as installing new sheetrock or flooring as needed to restore the property to good as new. Going this extra mile is our way of ensuring nothing less than a completely successful restoration for our customers in Los Gatos.
Call 911 Restoration as soon as you suspect mold or notice water damage. We'll be there in 45 minutes to handle everything from mold inspection to flood cleanup. Don't delay in giving yourself a Fresh Start you can depend on. Call us at 831-216-1088 and see how we can help.

Flood Damage Restoration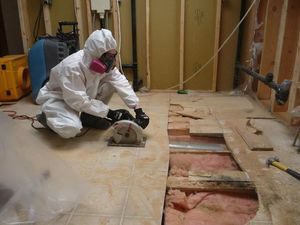 Flood damage restoration is often needed due to pipe bursts and pipe leaks. A flooded basement is a likely room to suffer this damage, but flooding can happen anywhere. When flooding occurs, nothing less than flood cleanup will get the job done. This is a modified water damage restoration that addresses the contaminants often found in floodwater. Excess amounts of water will often contain anything from dirt to raw waste depending on the source of flooding.
This unsafe condition is taken care of with both decontamination and mold decontamination. This two-pronged approach addresses both bacteria and mold to ensure the property is completely safe for our Los Gatos residents. Once this step is finished, we can move on to our normal water damage restoration process. After we get the property dry, the only thing left to do is get to work on the needed repairs. These repairs are designed to get things back to normal and ensure that the same event doesn't happen again.
If you need emergency restoration, then call 911 Restoration of of Santa Cruz immediately. Your Fresh Start is ready and waiting for you. Call us at 831-216-1088

Servicing the cities of Aptos, Aromas, Ben Lomond, Boulder Creek, Capitola, Carmel, Carmel Valley, Castroville, Davenport, Del Monte Forest, Felton, Freedom, Gilroy, Gonzales, Greenfield, King City, Los Gatos, Marina, Monterey, Morgan Hill, Pacific Grove, Pebble Beach, Prunedale, Salinas, San Juan Bautista, Santa Cruz, Santa Cruz County, Scotts Valley, Seaside, Soledad, Soquel, Swanton, Watsonville, and surrounding areas.