Water Damage Restoration in Gilroy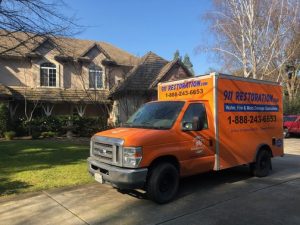 Being a property owner is a complex undertaking that requires you to address everything from paying bills to protecting against property damage. Damage to the property comes in many forms and water damage is the most common of the different types possible. It can be a leaky faucet to a pipe burst, but the truth is at the end of the day you will need water damage restoration to restore the property back to good as new. That's why our IICRC certified technicians are ready to help 24/7/365 by working on any mold remediation or water damage restoration that's needed by our Gilroy customers. Whether you live in Gilroy or another city in the Santa Cruz area, we promise to arrive within 45 minutes ready to get to work on your water damage restoration.
It only takes as little as 24 hours for standing water to begin producing mold. While it's not guaranteed that mold will grow right at 24 hours, the longer you take to resolve your water damage the more likely you are to need professional mold removal services on top of your water damage restoration. The secret is one simple trick. Prompt Water damage restoration. Done quickly, you'll find that your water damage restoration is a simple one without complications.
If you need mold remediation or water damage restoration services, call 911 Restoration immediately. Don't wait to get the Fresh Start you need to move forward in the Santa Cruz area.
Water Damage Restoration
Water damage restoration is straightforward yet involved process that should be handled by IICRC certified technicians like the ones at 911 Restoration. We have combined our years of experience and ongoing training to develop a perfected water damage restoration process for our Gilroy customers. Before unpacking our equipment, we begin with a visual inspection. Our visual inspection helps us determine the extent of the water damage, if mold is already present, and if any additional repairs will be needed.
After we have completed our inspection, we can begin on your water damage restoration. We only use the latest water extraction equipment and commercial dryers to get the property completely dried out from top to bottom. We leave nothing to chance,  which is why we use infrared cameras to verify our work. These cameras can detect wet spots that our eyes alone are unable to see. Once the property is dry, we can begin working on repairs. If we found mold during the inspection, we will address your mold removal needs before making repairs to ensure there are no issues months later.
In addition to repairs made at the source of the water damage, we also work on other repairs that include the installation of new sheetrock or flooring as needed. We strive for a completely comprehensive approach that actually gets your property restored to good as new.
Once you suspect mold or notice water damage, the next step is to call 911 Restoration. We'll be there in 45 minutes for our customers in Gilroy and throughout the Santa Cruz area ready to work on your emergency restoration. Get the Fresh Start you need today!
Flood Damage Restoration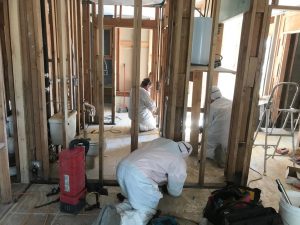 Sometimes, water damage becomes flood damage. Events that require your fire sprinklers to activate or something more common such as a pipe burst can lead to the need for flood damage restoration. Since pipes exist in the basement primarily, a flooded basement is a common occurrence for property owners. With a flooded basement, flood cleanup is needed to remedy the problem. Our flood cleanup process involves an additional step thanks to the amount of water. Excess water is often contaminated with something ranging from dirt all the way to raw waste depending on the source of the flooding. As a result, the floodwater becomes a health hazard for our Gilroy customers.
We address this hazard by performing both standard and mold decontamination to address any bacteria or mold that is present during the flooding. Sanitizing the area is key to creating a safe property for our customers. Once that is secured, we can proceed to do our normal water extraction and drying process to dry out the property. After the property is completely dry, we can finish the job by handling any necessary repairs for our Gilroy residents.
Get the Fresh Start you need by calling the technicians at 911 Restoration. We'll be there in 45 minutes to handle your flood cleanup or any other emergency restoration service needed.
Servicing the cities of Aptos, Aromas, Ben Lomond, Boulder Creek, Capitola, Carmel, Carmel Valley, Castroville, Davenport, Del Monte Forest, Felton, Freedom, Gilroy, Gonzales, Greenfield, King City, Los Gatos, Marina, Monterey, Morgan Hill, Pacific Grove, Pebble Beach, Prunedale, Salinas, San Juan Bautista, Santa Cruz, Santa Cruz County, Scotts Valley, Seaside, Soledad, Soquel, Swanton, Watsonville, and surrounding areas.