Water Damage Castroville
Water damage can happen from plumbing or rain leaks. When your home floods our water damage Castroville crew will respond within 45 minutes to start pumping water out and 911 Restoration Santa Cruz uses the latest drying technology to make water removal as fast as possible. We are available 24/7 to take care of the disasters as soon as possible. We are licensed, insured, and bonded to handle:
Water Extractions
Sewage Backup Cleanup
Mold Remediation
Disaster Restoration
We train in all disaster restoration services so that we can get your house back to normal after the worst water disasters. We will even help defend your property against further damage by suggesting simple chores such as cleaning rain gutters, insulating your water line, installing a sewage back flow valve, and repairing your plumbing as soon as leaks start. The more you prepare, the better off your building will be.
Castroville was named after its founding father, Juan Bautista Castro, whose name translates to fortification. Indeed, Castroville is a fortified town of fortified buildings. You can help your property keep up its strength by performing all preventative maintenance. If a fluke pipe burst, toilet overflow, or water heater flood does occur, it is important to call our water damage Castroville team for water damage restoration services as soon as possible.
Who do I Call for Water Damage Restoration?
If you need water damage restoration, call our water damage Castroville specialists for same day service. A washer burst can spray moisture deep into your drywall. Long-term rain leaks can spawn mold spores. Ruptured hoses can destroy your carpets. All of these scenarios get worse over time if you do not rely on 911 Restoration Castroville to handle the drying and clean up job. We have over 35 years of experience in disaster restoration services, so we know how to get the water out of your home quickly and efficiently.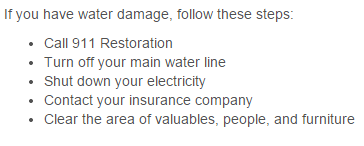 We respond within 45 minutes because the faster water removal is complete, the less damage your home sustains. We always put the customer first, so we can even file your water damage claim for you to get the work underway faster. Call our water damage Castroville experts when you need water extractions and we will work with your homeowner's insurance company to cover the damage.
Does Homeowner's Insurance Cover Water Damage?
Homeowner's insurance covers water damage Castroville services that were not accrued through negligence. If you stay up to date on your plumbing and roof maintenance, your homeowner's insurance should take care of any disaster restoration services. However, if your home floods due to rising water outside the property, you will need a separate flood insurance policy. We recommend you use both because, according to the Insurance Information Institute, water damage is one of the most common reasons for insurance loss. If your insurance company refuses to cover the damage, our water damage Castroville technicians will provide you with an affordable price and a subsequent free inspection to spot mold. We understand the trauma that occurs during this type of emergency, so we make sure to work within your budget so that you can still get the help you need. Call our water damage Castroville professionals when you need help from the best water damage restoration company.
What is the Best Water Damage Restoration Company?
The best water damage restoration company is 911 Restoration because our water damage Castroville staff will always put the customer first and we value professionalism. We handle the insurance company so you don not have to. We provide same day service at an affordable price to fix your home as fast and conveniently as possible. We are licensed, insured, and bonded with over 35 years of experience so that we can handle any disaster thrown our way. When floods come to the city of Castroville, we will be there to save the houses. Call our water damage Castroville company when you need a fresh start and we will provide you with the best water removal jobs.