Mold Removal in Salinas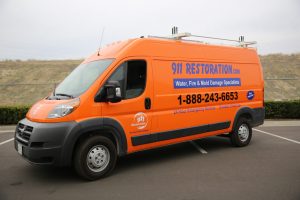 When a mold infestation becomes known you feel it as a property owner. Mold builds up over time and can cause extensive damage to not only your property but also any residents within. The mold will eat away at organic materials like sheetrock and wood until it's gone. In addition, people have also been known to suffer health issues like headaches and difficulty breathing when near a mold infestation. When this occurs, the only viable solution is a professional mold removal company.
While you need professional help for your mold remediation, that doesn't mean you shouldn't be aware of the signs when it comes to mold. The earlier you can detect mold the less damage you incur. Some common signs of mold include:
Rotting wood

Crumbled drywall

Visible mold

Breathing problems

Headaches

Persistent cough

And more
Regular cleaning methods are ineffective with mold, which is why professional mold removal is necessary.  When mold is scrubbed or sanitized it only agitates the mold spores. Once agitated, the spores can become airborne. When this occurs, your mold contamination area has spread further than its original origin.
Since mold can be discovered anytime day or night, we make ourselves available 24/7/365 for our Salinas area residents. No matter where you reside in Salinas we guarantee arrival within 45 minutes of your call ready to begin the mold cleanup and removal process.
Once you become aware of or suspect mold growth, the next step is to call 911 Restoration. Everything from mold decontamination to mold removal is taken care of with 911 Restoration. Get the Fresh Start you need today!
Local Inexpensive Mold Removal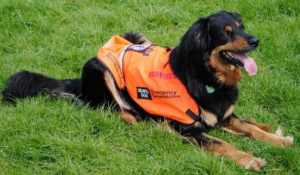 Every location in the country has its own unique environmental concerns and Salinas is no different. That's why you need local mold removal services like the ones provided by 911 Restoration. We know what it takes to handle your mold remediation because we live here too. Our years of experience have enabled us to perfect our process making us qualified for everything from mold decontamination to mold cleanup and beyond.
The first thing we do is perform a mold inspection upon arrival. This lets us know the affected areas and how far the growth has spread. Once we know the area of contamination we can get started on our mold remediation efforts. Our process involves containment, mold decontamination, and mold removal making for a truly effective and comprehensive approach to getting you to a Fresh Start.
In the event, you have suffered actual damage to your property, we are prepared to offer extensive restoration services as part of our mold cleanup and mold remediation process. We understand how important it is to get back to good as new, which is why we provide additional services as needed.
Whether you need a mold inspection or complete mold remediation, you can count on 911 Restoration for assistance. Get the Fresh Start you deserve by putting your mold removal in our hands.
Black Mold Cleanup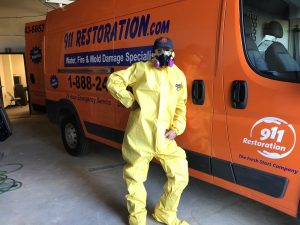 In some cases, mold is more than just mold. Sometimes, that mold growth is actually toxic mold. One of the most common types is known as black mold. This type of mold presents additional health problems for any residents within the property. The most severe health issue is organ shutdown which can lead to death if not addressed soon enough.
Black mold requires additional precautions for the technicians. That's why we don hazmat suits before performing any black mold cleanup actions. We value your health, which is why we use a verified third-party lab to determine if the mold samples submitted are actually toxic. Fortunately, mold is still mold so we can still perform mold remediation like we normally would so you can rest assured that your mold contamination will be resolved in a short manner.
With black mold, we take the time to be extra thorough with our mold decontamination and mold cleanup. Our focus is on making sure the mold has no means of coming back. That's why as part of our mold removal process we also verify any damp spots and get them completely dried out so that mold can't grow in that area.
Get a mold inspection or sign up for mold remediation if you have already discovered mold. The key is to respond as quickly as possible. Call 911 Restoration for service that begins within 45 minutes of your call. With us, you're on the way to a Fresh Start.
Servicing the cities of Amesti, Aromas, Bautista, Ben Lomond, Boulder Creek, Capitola, Carmel, Carmel Valley, Castroville, Davenport, Del Monte Forest, Felton, Freedom, Gilroy, Gonzales, Greenfield, King City, Los Gatos, Marina, Monterey, Morgan Hill, Pacific Grove, Pebble Beach, Prunedale, River Oak, Salinas, San Juan, Santa Cruz, Santa Cruz County, Scotts Valley, Soledad, Soquel, Swanton, Watsonville, and surrounding areas.