Mold Removal in Monterey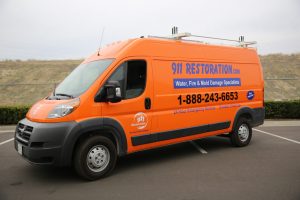 As a property owner, you know that property damage is one of the worst things that can happen. Property damage comes in many forms, which can make it difficult to prepare and plan ahead for. One of those types is a mold infestation. Mold can seemingly spring up overnight, but in actuality builds up over time. It requires a damp and fairly dark environment to thrive in. Mold contamination is a problem for property owners thanks to two specific reasons. Mold eats away at all organic materials from the sheetrock in your walls to the carpet on your floor. In addition, mold also causes health problems in people exposed too long. Common symptoms include difficulty breathing and headaches.
Mold removal is a process that needs professional attention, but that doesn't mean that you shouldn't be aware of the signs of mold contamination. Some examples of mold growth include:
Crumbling drywall

Rotted wood

Breathing problems

Visible mold

Headaches

And more
The reason why professional mold removal is required is due to regular cleaning methods being ineffective. You can sanitize and scrub as much as you want. The only thing you will accomplish is the agitation of the mold spores causing them to spread to new locations.
Mold can be found at any time and is often a large problem by the time its discovered. For this reason, we make ourselves available 24/7/365 for Monterey area customers to handle mold removal or mold remediation needs. Plus, as part of our Fresh Start approach, we guarantee to arrive within 45 minutes of your call no matter where you reside in the Monterey area.

Have you discovered mold on your property? Call 911 Restoration immediately so we can get started with a mold inspection and then begin on the mold decontamination and mold cleanup. Get the Fresh Start you deserve today!
Mold Specialists Near Me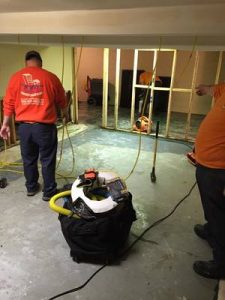 Thanks to our training and years of experience, we have become a leader in the industry and as such have honed our mold remediation process to an exact process. Upon arrival, the very first step is to perform a mold inspection to determine the source of mold contamination along with how far it has spread. Once complete, we put together an action plan to begin the mold removal.
Mold removal is a three-step process from start to finish. Our first step is containment. We want to prevent the mold from spreading during mold decontamination and removal. This is accomplished with equipment like our vapor barriers among other measures of containment. After containment, mold decontamination is performed along with any mold testing deemed necessary. Through industrial grade cleaners and detergents, we ensure that the mold is completely sanitized before mold removal commences.
As part of our mold remediation process, our third step is to repair any damage incurred before the mold could be removed. At 911 Restoration of Santa Cruz, we focus on getting you back to normal and that requires a comprehensive restoration approach after the mold removal is completed.
If you need mold remediation or just a mold inspection then call 911 Restoration immediately. Mold specialists are on the way to deliver a Fresh Start you can count on.
Black Mold on the Wall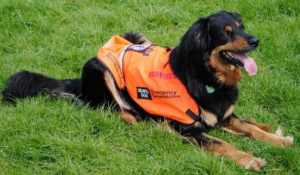 Sometimes, mold goes a step beyond its regular damage thanks to the potential to actually be toxic mold. One of the most dangerous molds is black mold. It's important to remember that mold can be black in color and not actually be "black mold." What makes this mold stand out is its danger to people's health. Advanced health problems like organ shutdown are common with black mold and in some cases can be fatal.
Black mold requires testing which is why we offer third-party mold testing services for our Monterey area customers. Your health is a priority and verifying toxicity is necessary. Should black mold exist, we take extra precautions to protect the health of the technicians and residents within the building. One of those precautions includes the use of hazmat gear as an extra level of protection during our containment process.
We are ready to assist with every aspect of the mold remediation process from start to finish. If you need help, then don't hesitate to call 911 Restoration for your mold cleanup. We'll be there promptly to begin work on your mold removal. With us, you get the Fresh Start you need.
Servicing the cities of Amesti, Aromas, Bautista, Ben Lomond, Boulder Creek, Capitola, Carmel, Carmel Valley, Castroville, Davenport, Del Monte Forest, Felton, Freedom, Gilroy, Gonzales, Greenfield, King City, Los Gatos, Marina, Monterey, Morgan Hill, Pacific Grove, Pebble Beach, Prunedale, River Oak, Salinas, San Juan, Santa Cruz, Santa Cruz County, Scotts Valley, Soledad, Soquel, Swanton, Watsonville, and surrounding areas.