Mold Removal in Santa Cruz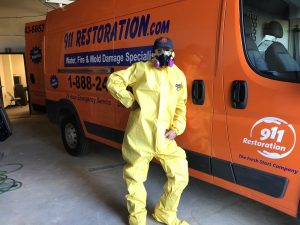 Between the damp ocean air and lingering moisture during the rainy season, property owners in Santa Cruz, Watsonville, and the surrounding area should be on the lookout for mold.
Of all threats to your home, business, and health, mold is by far the sneakiest. The air can transfer hundreds of thousands of spores to the damp crevices of your property. Because mold thrives in darkness, a colony can thrive and spread before you even realize it's there.
That's why it's important to know you have a knowledgeable, IICRC certified staff of mold remediation specialists on your side. Call us at 831-216-1088 and allow us to provide you with a free visual inspection.

911 Restoration of Santa Cruz knows mold inside and out, from the places it hides, to the damage it can cause, to the methods necessary to vanquish your mold infestation for good. Mold moves quickly, so our mold remediation technicians do, too. They even offer a free visual inspection for property owners, examining every inch of your property before you commit to spending a dime.
Best of all, every technician on staff has undergone comprehensive training and is IICRC certified. You have true peace of mind, knowing you can count on this expert mold removal team to find and eradicate every last trace, leaving your property better than new.
If you've been thinking of calling in professionals to inspect for mold or remove mold you already know is there, don't delay another day. Call 911 Restoration of Santa Cruz and let us turn a hazardous threat into a Fresh Start at 831-216-1088.
Battling And Preventing Airborne Mold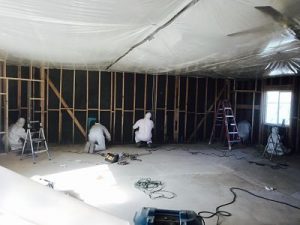 If your property has experienced any kind of water damage—even something as seemingly minor as a leaky pipe—you are at a high risk for mold contamination.
Mold spores are constantly in the air around you, looking for a dark, damp place to land. Have you had any recent water damage in your ceiling? Any moisture in your walls or crawl space? What about the drip under the kitchen sink?
All of these scenarios create a welcoming breeding ground for mold spores. Then, when spores land and grow into full-blown colonies, that thriving mold releases even more spores into the air. Mold reproduces rapidly, and the longer you put off mold removal, the greater the cost will be, both in terms of remediation services and in terms of irreparable damage.
Of course, airborne mold wreaks even more havoc than just spreading mold. In addition to spores, certain varieties of mold expel toxins into the air. For example, the infamous and all-too-common black mold releases mycotoxins that can enter the body through breath. A build-up of these mycotoxins can cause toxicity in the body, which could result in respiratory issues, headaches, and even heart problems.
Fortunately, mold only poses a lasting risk if it's left to spread. The right mold remediation company can locate the source of airborne mold, address an infestation you're already aware of, and perform full mold decontamination for your entire property.
Call us today and our mold removal techs will be there right away to provide a literal breath of fresh air. Call us at 831-216-1088 and see how we can help.

Mold Remediation And Restoration For Santa Cruz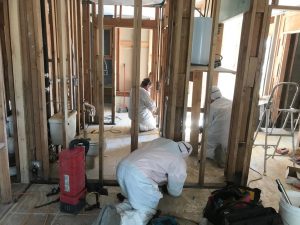 The technicians of 911 Restoration guarantee comprehensive mold remediation services. And you can expect to be included in decision-making every step of the way.
Your dependable mold decontamination team will begin with mold inspection and sampling, sending samples to a third-party laboratory for mold testing and identification. Once you are armed with all the facts about your specific infestation, the 911 Restoration staff clearly explains your options and their recommendations.
Our residential and commercial restoration system goes above and beyond basic decontamination. The remediation specialists follow up mold cleanup with structural drying and dehumidifying. By removing moisture from the affected area, they resolve both the problem and the cause of the problem.
Home cleaning products are not enough to fully remediate a mold infestation. You may be able to temporarily remove visible mold, but real decontamination requires highly trained technicians and professional equipment.
There are few things as unsettling as seeing a live mold colony destroy your property or—worse—feeling the presence of an invisible hazard in the air you breathe.
At 911 Restoration, we want to make your home or business feel safe again . . . a place where you can thrive.
Call us today for a Fresh Start at 831-216-1088.
Serving the communities of Amesti, Aromas, Marina, Davenport, Salinas, San Juan Bautista, Monterey, Santa Cruz, Morgan Hill, Swanton, Prunedale, River Oak, Watsonville, Santa Cruz County, Big Sur, Brookdale, Carmel by the Sea, Chualar, Jolon, Lockwood, Moss Landing, Mount Hermon, San Lucas, Spreckels, San Jose, San Martin  and surrounding area.